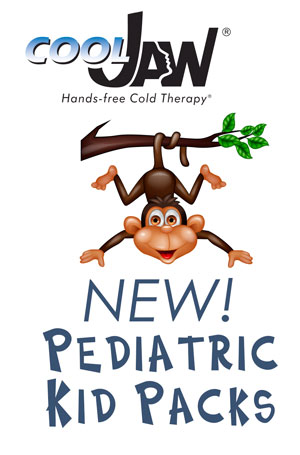 Introducing our new Pediatric Kid Packs! Perfect for young patients after a variety of procedures. Cool Jaw's T-430 Soft-sided Round Gel Packs are ideal for a variety of cold therapy applications. These reusable gel packs are 4" in diameter and remain flexible when frozen, allowing for uniform cold therapy. They feature one soft-sided surface that shields skin from direct contact with the frozen pack. They are a convenient, comfortable and economical cold therapy application for your patients.
Our kids packs come in cases of 50. You get 10 each of the 5 fun, colorful characters in each case of Jungle Safari, Sea Creatures or Monster Mash. Our Tooth Gang comes with 5 or each character per case. Customize with two lines of text using your practice name, website or phone number. $1.50 per pack / $75.00 per case
Contact us for more information of to place an order.