NOTE:  Our shipping companies are experiencing delays due to peak Covid volumes.  This applies to all transit times.
Shipping and Returns. Our top priority is providing the highest level of service to our customers.  For specific shipment status information or questions about returns, please contact us at 877.411.7009 9:00 am-5:00 pm EST (Mon.-Fri.).
Most items ship out the same business day, as long as the order is received prior to 3:00 pm EST.
What shipping methods are available to me?
We have various shipping methods available including:
-Ground — $9.50 / See map for more details.
-Overnight
— $45.00 / 1 business day from date ordered, (not including order date OR Saturday/Sunday).  Orders placed before 3:00 pm EST will be shipped out the same day & delivered 1 business day later by 8pm. If you need Early Delivery please
contact
customer service department. 877.411.7009  Orders placed after the cut off time will be processed the next business day.
 Note: All orders placed after 3 pm. EST will be shipped the next business day.  All orders placed over the weekend will be shipped on Monday, placed on a Holiday- fulfilled on the following business day.
Shipping Policy
Free Shipping Policy  Residential Only Orders must total $35.00 or more.  (Shipped via Ground) 
International Orders call for shipping details: 610-253-7009 / 877-411-7009
Packages may require signature upon delivery.
Customs & Additional Shipping Carrier Fees
International orders to some countries may be subject to Customs inspections and fees and/or additional shipping carrier fees (i.e brokerage fees, handling/administrative fees, etc.) based upon each country's policies and the shipping carrier's policies. Cool Jaw cannot be responsible for time delays due to these actions nor for reimbursement of any Customs fees or additional shipping carrier fees that may be charged to deliver the package to your country's destination.
For International orders, in case of return or cancellation, Cool Jaw will not be responsible for refund discrepancies due to the exchange rate between US Dollars and foreign currency. We refund the amount in dollars that is due, and any conversion differences will not be refunded.
In the event of a package held at the Customs of a foreign country, Customer will be responsible to contact the Customs of his/her own country.  While we cannot contact Customs of a foreign country, we will assist Customer to the best of our abilities by providing any documentation that is necessary for the release of a Customer's package from Customs in Customer's Country.
We will not be responsible for any shipping delays due to adverse weather conditions. Weather, natural disasters and other uncontrollable events can interrupt shipping/transportation flow –anytime, anywhere and with little warning. Inclement weather causes hazardous conditions in many regions of the U.S., this may cause some service delays and disruptions due to closures and canceled mail pickups. Note that potential service disruptions may not affect Express, Ground, International, Freight, Smart Post, Residential Deliveries, etc. all in the same. This may result in different levels of impact…other variables: which cities, states and ZIP Codes are involved.
To help avoid delays, it is strongly recommended that you purchase your recovery products at least two weeks prior to surgery. This will avoid paying extra for rush shipping charges, nullified returns, or delays in delivery, especially during inclement weather or holidays.
Please allow additional time for delivery from December 20th through January 5th due to the high volume of mail orders during this period and closures of shipping departments and carriers due to the holidays.
Note: All orders placed after 3pm EST will be shipped the next business day.  All orders placed over the weekend will be shipped on Monday, if placed on a Holiday- fulfilled on the following business day
610-253-7009 / 877-411-7009
We ship all packages via FedEx out of our Pennsylvania warehouse facility. Please view the chart below to estimate the time for delivery from our warehouse.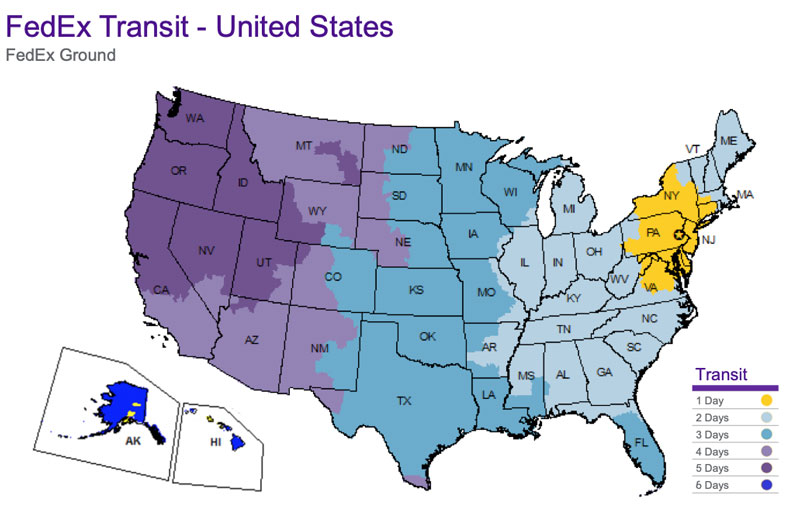 *Please note that the map estimates FedEx Ground shipping time.
Upon delivery, if a customer refuses a package or fails to pick up a package, customer will not be reimbursed for the shipping charges that were paid at the time the order was placed.  Please do not refuse any package as there will also be a $10 fee (assesed by the carrier) for refusing the package, and an additional freight charge that will be determined by the shipping carrier who will return the package to Cool Jaw.
In the instance of a return, Cool Jaw will not be responsible for, or reimburse, any shipping charges.
Do you ship to PO Boxes, APO and FPO Addresses?
Yes we do ship to PO Boxes, APO, and FPO addresses via U.S. Mail.  Please contact Customer Care at 1.877.411.7009 to place your order.
Order Cancellation
If you wish to cancel an order placed on the same day, please call our toll free number 877-411-7009 from 9am-3:00 pm EST. For orders placed during the weekend, please contact us as soon as possible on Monday morning.
You may also email cancellations to info@cooljaw.com but it is advisable to speak to a live representative. We will cancel your order if it has not already shipped, but we cannot issue any credit until the cancellation has been confirmed by the shipping department.
Return Policy
Please note that By submitting an order, you agree that you have read and accepted all terms of our Return and Shipping Policies.
In the event a package is returned to us, the original shipping paid at the time of the order will not being reimbursed and an additional $10 fee will be deducted from the refund to cover the freight charges if you refused the package.
ANY shipping claim or discrepancy has to be reported within 30 days after the placing the order. Beyond the 30 days, no claim will be accepted, and no refund will be issued, however we will assist our Customer to the best of our abilities by contacting the shipping carrier.
How Do I Return Or Get A Refund For An Item?
Upon your request and within 30 days of the invoice date, Customer Care will issue a Return Authorization number. Unauthorized returns will not be accepted for credit. A 15% restocking fee will be charged on all returns, and shipping is nonrefundable. Please contact Customer Care for assistance.
Once we receive your item(s) back, you will receive a refund provided that the item(s) that you sent back, have/has met all criteria that were posted in our Return Policies. Please allow 2-3 billing cycles for your credit to be posted into your credit card statement. When you are mailing a return back, we strongly suggest you request a tracking or delivery confirmation number from your carrier.  FedEx has tracking numbers, and the US Postal Service offers delivery confirmation numbers.  Having a tracking number will help expedite your return, and act as your proof that the return has been sent.  In the event that your package is delayed, this will assist our warehouses in tracking your return.
Defective Goods Policy
A Defective item is defined as an item incorrectly manufactured or having defective fabric and/or components. Claims regarding a defective item should be communicated as soon as possible within 30 days of the order.
Defective items will be replaced.
Order & Shipping Errors Policy
If an ordering (i.e. incorrect item sent) or shipping error is due to Cool Jaw, the Company will either reship the correct item or reimburse customer for item price and shipping expense.  All problems due to Cool Jaw 's error must be reported by customer to Cool Jaw. within 10 days of the customer receiving the item.  Any order errors reported after this 10 day period will not be subject to any credit or a reshipment by Cool Jaw.  If it is found that the customer made the ordering or shipping error, Cool Jaw will not be responsible for this error.
Damaged Goods Policy
Damaged Goods are defined as any product that is purchased which is not defective but has been mishandled, improperly heated or stored or misused in any way by the customer. They  will not be replaced or exchanged.
Product Life Cycle and Guarantees
If properly handled and not damaged, recovery aids are 100% guaranteed unless improperly heated, damaged by misuse, or improper product care.
Manufacturing Defect Policy
If a customer is not satisfied with the quality, craftsmanship or design functions of the garment due to a manufacturing defect, product should be replaced. Claims regarding an item with manufacturing defect should be communicated to Cool Jaw within 30 days of the order date or within 14 days after surgery date by calling or sending an email to info@cooljaw.com. Cool Jaw will pay shipping expense for replacement item and damaged item.
Lost Goods Policy
Our responsibility for goods shipped via common carrier (US mail and/or FedEx) ceases when we deliver the goods to the carrier. We cannot be responsible for merchandise lost or damaged in transit. The risk of loss and responsibility for such items are assumed by the customer upon delivery of the goods to the carrier.  We will assist our customer by filing their claim of loss with the carrier. However, customer refund will not be issued until the carrier resolved the issue of loss or damage
Items Returned After Return Period
Items returned in new condition (in original packaging, unworn, unused) after the allowed return period may be accepted for store credit only. Returns sent back not in accordance with the return policy will be evaluated on a case by case basis.